Recording of the Month November 2016 – Friends of Cathedral Music

"All the cosiness and geekiness of a garish Christmas jumper. I have a feeling this will be playing while I peel the sprouts on Christmas morning." – Gramophone Magazine
The King's Men is the close-harmony vocal group formed by the current Choral Scholars of King's College, Cambridge. Twelve Days of Christmas showcases the lighter side of their seasonal repertoire including Away in a Manger and Gabriel's Message alongside classic favourites such as Rudolph the Red-nosed Reindeer and Santa Baby. Pat Dunachie, now First Alto in the King's Singers, can be heard channelling Mariah Carey in All I Want for Christmas is You.
Unlike many close-harmony groups, The King's Men record together in a natural acoustic, instead of tracking each voice separately in a studio. This results in stronger musical cohesion and a more authentic sound.
Stephen Cleobury, Director of Music, says he is proud of the success earned by the King's Men:
"I am delighted that, after the success of the first King's Men recording on the College label, the Choral Scholars have recorded this outstanding new collection of Christmas music. That they have planned, rehearsed and performed for this recording themselves is testament to the professionalism of Choral Scholars at King's, and the results speak for themselves."
| | | | |
| --- | --- | --- | --- |
| 1 | Gabriel's Message | 03:10 | Basque carol arr. Jim Clements |
| 2 | All I Want for Christmas is You | 03:45 | Carey, Mariah & Afanasieff, Walter arr. Ben Parry |
| 3 | The Christmas Song | 02:42 | Wells, Robert & Tormé, Mel arr. Roland Robertson |
| 4 | Dormi, dormi | 02:53 | Italian carol arr. Guy Turner |
| 5 | Wonderful Christmastime | 02:55 | McCartney, Paul arr. Robert Rice |
| 6 | Santa Baby | 02:44 | Javits, Joan, Springer, Philip & Springer, Tony arr. James Mawson |
| 7 | Away in a Manger | 02:39 | Kirkpatrick, William J arr. Henry Hawkesworth |
| 8 | I Wish It Could Be Christmas Every Day | 03:28 | Wood, Roy arr. Ben Parry |
| 9 | Quelle est cette odeur agréable? | 05:33 | French carol arr. Henry Hawkesworth |
| 10 | Christmas Cards | 03:36 | Parry, Ben |
| 11 | White Christmas | 02:16 | Berlin, Irving & Crosby, Bing arr. Jeremy Davies |
| 12 | Rudolph the Red-nosed Reindeer | 02:03 | Marks, Johnny arr. Keith Roberts |
| 13 | Have Yourself a Merry Little Christmas | 02:24 | Martin, Hugh arr. Jeremy Davies |
| 14 | Twelve Days of Christmas | 06:22 | English trad arr. Keith Roberts |
| | | Total playing time – 46:30 | |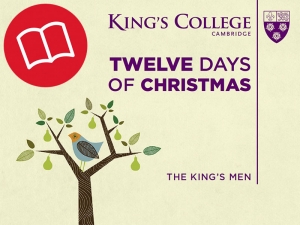 Recorded at 96kHz 24-bit PCM stereo in St George's Church, Chesterton, 29 June – 1 July 2015
Producer & Editor  Benjamin Sheen
Engineer  Matthew Dilley
Mixing  Benjamin Sheen & Mike Hatch
Mastering Engineer  Nick Watson